Ways to Give
Planned Giving
Meet Our Donors
The Lupus Legacy Society honors those who have recognized the Lupus Foundation of America in their estate plans or provided for planned giving arrangements that help the Foundation. You can trust that your legacy gift will help the Lupus Foundation of America meet the ever increasing needs of those we serve now and in the future. You will have the satisfaction of truly making a difference in the lives of others.
We thank all our planned-gift donors for their generous support. Here are some of their stories.
Patti, The Lupus Legacy Society Charter Member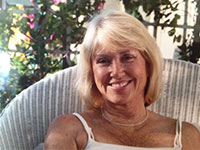 As a mother who lost her beloved daughter to lupus and a long-time supporter of the Lupus Foundation of America, I am personally committed to ensuring that the foundation meets the needs of the lupus community far into the future. To accomplish this goal, and to honor my daughter's memory, I have included the Lupus Foundation of America in my estate plans. I urge everyone to consider the Foundation as part of their estate plans, and join me in taking action to end the suffering and devastation caused by this disease.